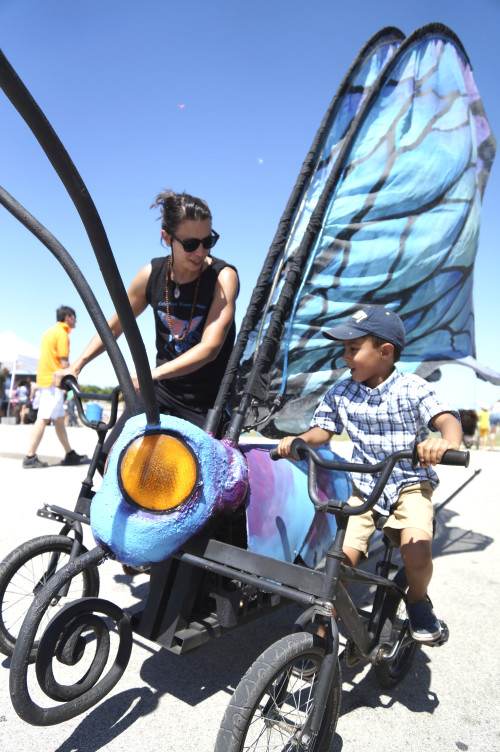 by Bernadette Noll, craft coordinator for Austin Mini Maker Faire
For the first time in Austin Mini-Maker Faire history, the Maker Faire is TWO FULL DAYS!!! We have lots of fun things on the schedule each day including hands-on workshops, music,  interactive exhibits, rides, games, activities,  a jam-packed speaker's stage and more! Not sure how it'll work for you and your family? Here are just a few reasons you should plan on filling your weekend with the Austin Mini Maker Faire!
Buy a weekend pass. Come with your kids one day and WITHOUT your kids the next. The Maker Faire is definitely NOT just for kids!
Pick up your Nerdy Derby race car kit on Saturday. (only 600 available!!  Free until they're gone!)  Come back Sunday for the exciting Nerdy Derby Grand event sponsored by Foundry for a chance to win some amazing prizes!
Bring a date. You know that person you've had your eye on for a while now? Or that one who shares your house? Show them your intelligent AND fun side by buying a pair of weekend tickets to the Faire.
Grab a schedule of events on the first day and plot your weekend's Maker Faire itinerary. We've got a full schedule of bands, interactive workshops, speakers and events – come both days so you don't miss a beat. (and with bands like Minor Mishap Marching Band and Mazeltov Kocktail Hour that'll be quite a beat indeed!)
How can you learn to solder, sew, make a hula hoop, use a 3D printer all in one day AND check out the amazing BoneShaker Big Wheel all in one day?? Plan on a full weekend for a full hands-on, life changing experience!
Bring your high school students for an event way more informative than any college fair EVER!! It could be at the Faire that they find their lifelong passion.
Come with one child one day and one child the next for the perfect parent/child one-on-one interactive experience.
Got a birthday party to plan? Have it at the Maker Faire and bring a whole pack of kids. Then come back the next day with just the family!
Bring your swimsuits and splash in the fountain at Butler Park. Then dry off on the Bike Zoo Carousel! Maker Faire is a reason to spend the entire weekend in the park!
Make one day a tech day and the next an arts and crafts day. From Arduino to lace making, from 3D printing to hand sewing, Austin Mini Maker Faire has got it all!!!
So go ahead and put both days on your calendar, because you will be sad if you don't! (so will we!)