Project: Learn to Solder Workshop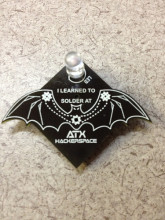 Stop by the ATX Hackerspace booth where you can see our MAME arcade cabinet, among other projects (like our MEME cabinets). We'll also be running a workshop where you can learn to solder from some of our members and assemble a blinking "HackBat" badge that proclaims you can solder!
Maker website:
http://atxhackerspace.org/
Maker organization:
ATX Hackerspace
Bio:
ATX Hackerspace a community of people who love to learn and make things, as well as a collaborative industrial workshop where even the least tech savvy member can cut things with a laser! We have 8000 square feet of space perfect for any number of projects (clean or messy) that needs a space! Art, science, programming, fabbing, modding, co-working, or just socializing; our space is whatever we need it to be.
Maker list